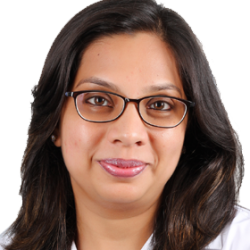 Dentist Chandni Davda
Aesthetic Dentist in Chembur (East), Mumbai
"More Smiles" dental clinic was conceptualized by Dr Chandni Davda, a dedicated & passionate Dentist in Chembur (East) with over 10 years of active clinical practice. A woman dentist who handles her dental clinic and family with great pride and elan.
She completed her graduation (Bachelors in Dental Surgery) from the prestigious Government Dental College (GDC), Mumbai in the year 2005.
She was awarded The Seth Pohumal Gehani Award for securing highest marks in Community Dentistry and Oral Pathology during her academic career.
As a hardworking and sincere student, she was always a favourite among the teachers and colleagues alike. Despite various hardships on a personal front, she persevered with her academic career and kept chasing her dream.
The desire to excel took her to the prestigious All India Institute of Medical Sciences (AIIMS, New Delhi) where she served briefly as a junior resident for a period of 3 months.
She gained immense experience in treating complex dental cases and various dental emergencies and trauma cases, a field has rarely given emphasis during graduation. Her stint at AIIMS helped immensely in broadening her perspective of dental practice.
After moving to Mumbai, she joined the Dentzz Group of dental clinics where she served as the lead dentist for over 3 years. She was quick to learn the nuances of aesthetic dentistry there and was soon appointed the head dentist for smile designing & smile makeovers.
Though she had a great portfolio, she was always keen to start something which she could call "her own" which led to the birth of "more smiles" dental clinic in 2013.
Ever since its inception, she has grown from strength to strength rapidly establishing the clinic as a name that stands for trust, excellence and value for money.
Despite her busy practice, she keeps abreast with the latest technology and developments in the field of dentistry for which she has also received a Certificate of Appreciation for Advance programs on Restorative Dentistry And Endodontics conducted by University of California San Francisco.
Her keenness to do the best for her patients is reflected from the latest technology, state of the art sterilization systems and a "no compromise" attitude.
Her next ambition is to develop "more smiles" as a name to reckon with in the field of facial and dental aesthetics, smile designing and makeovers to make millions smile better.