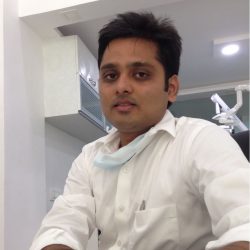 Dr. Gaurav C. Kadam
Endodontist M.D.S.
A Confident Endodontist healthcare Professional with a track record of 8 years in Successfully Diagnosing & Treating Patients with Dental conditions.  Especially focuses on diagnosing tooth pain and performing root canal treatment.
Academic Qualifications
1. Bachelor of Dental Surgery
February 2009, Pune.
2. Master of Dental Surgery
Endodontics, June 2012, Pune.
3. Fellow of International
Congress of Oral Implantology,
2013.
1. Publication
Dr. Gaurav C. Kadam
Dr. Sanjyot Mulay
" Surgical Extrusion of Traumatised Anterior Tooth "
2. Publication
Dr. Gaurav C. Kadam
Dr. Sanjyot Mulay
" Stress Busters "
Comparison of Stress concentration in abfraction lesions restored with various materials & Techniques using Finite Elements Analysis